5 Handy Apps for Shooting and Editing Video on Your Phone
With the increase in quality and capabilities of phone cameras, it's no surprise that more people are using their phones to shoot video. Making videos with your phone is easier than ever with these 5 handy apps! Whether you're shooting a quick video for social media or editing a more complex project, these apps will make the process easy and fun. Check them out now!
5 Handy Apps for Making Videos on Your Phone
Luckily, there are a few apps to make your video more interesting. Here are five of our favorites:
Adobe Premiere Rush
This app is perfect for quickly editing videos on your phone. It's easy to use and has all the features you need for basic editing, so you can shoot, edit and share high-quality videos wherever you are. And Adobe Premiere Rush can also help if you want to try the increasingly trendy square and vertical videos nowadays. It allows you to easily adjust the aspect ratio when editing videos for social media on the go, and also offers you creative flexibility to make your content stand out. For example, you can customize titles, adding and editing them with a variety of built-in templates.
iMovie
iMovie is a great option for editing and sharing videos quickly on your Apple phone. Not only is it great for editing quick videos to share on your social media platforms, but you can create 4K resolution movies and Hollywood-style trailers. You can use it to edit clips centrally and then add animated subtitles, music, filters, and effects. It helps you tell your story in a professional style and you can share your masterpieces with the world. If you want to get really creative, you can even create green screen effects or slow-motion videos with iMovie.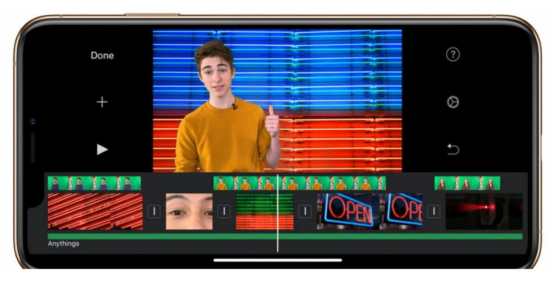 Helios Pro
This app is a must for anyone who wants to shoot videos outdoors with their phone. Using two different types of Augmented Reality (AR), Helios Pro can overlay the position of the sun on the camera image and use simulated lighting to project a 3D version of any landscape on the planet to help you determine the best time and the best angle. Helios Pro also adds a number of new tools to help with night photography. The new milky way section gives you three different ways to visualize the stars in any position. It also includes a unique night shot planner designed to allow night photographers to plan their galaxy photography.
LumaFusion
If you're looking for an all-in-one video editing app, LumaFusion is the one for you. It's packed with features that allow you to create beautiful, professional-looking videos on your phone with a level of precision and quality very close to what you'll find on a desktop computer. From basic editing tools to advanced color correction and green screen effects, LumaFusion has everything you need to make your videos look their best. It's also one of the few video editing apps that supports 360-degree video, so you can create an immersive experience for your viewers.
FiLMiC Pro
With manual controls for focus, exposure, white balance, and more, FiLMiC Pro gives you the ability to create videos that give you better control over the color, focus, and brightness of your camera during filming, no matter where you are. If you're shooting in low light or want to get some smooth cinematic footage, FiLMiC Pro's Log capture mode lets you do just that.
Conclusion
Whether you're shooting a quick video to share with your friends or family or editing a more complex project, these apps will make the process easy and fun. Check them out now! With these five handy apps, you'll be able to shoot and edit some amazing videos right from your phone. So get creative and start sharing your stories with the world!